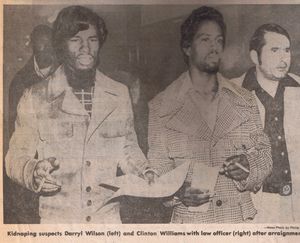 Timothy Stempel, a 13 year old Bloomfield boy and son of GM executive (later the CEO) Robert Stempel, was kidnapped on November 10, 1975 and held ransom for 55 hours.
The kidnappers, Darryl Wilson and Clinton Williams, demanded $150,000 and gave Stempel's parents directions where to drop the cash. Not realizing that there would be a bank holiday for Veteran's Day the bandits had to wait for their pay day. They finally received their loot and dropped off Timothy near Wayne County General Hospital.
Their undoing came after a spending spree revealed that the money they used matched the ransom drop serial numbers. The men plead guilty and Timothy Stempel went on to be an artist. Here are
a few examples
of his work.
For more information on the story click
here
(an account of the incident by an FBI agent who worked the case).
I know that a lot of people are interested in Eloise more so than Wayne County General Hospital because of the insane asylum but the general hospital had some crazy stories as well. This newspaper clipping from
The Spokane Daily Chronicle
, July 16, 1955 reveals the story of poor Kenneth Jobe who had his arm torn off at the shoulder while driving past a flatbed truck hauling a steam shovel. Apparently one of the treads hooked on to his elbow and tore the arm off at the shoulder. He then drove 8 miles while in shock and went into a store where he was finally attended to by a good Samaritan who called the police. He was taken to WCGH in satisfactory condition despite having lost a few quarts of blood and, of course, his arm as well.
Finally, a good deed by a thief who had pilfered vegetables from the garden at the hospital on several occasions some years before.
The unknown man, a former resident of Wayne, sent a $10 bill from an address in Washington, Indiana to the Wayne County Board of Auditors, stating that The Lord had saved him and he wanted to make restitution for his former transgressions.
A nice story of redemption if you believe in such things. Even if you don't it's still a cool little snippet.